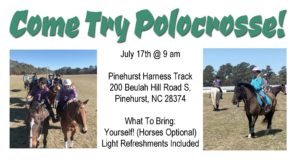 Come out and give Polocrosse a try on July 16th at the Pinehurst Harness Track! Learn how to catch and throw on the ground, followed by a mounted demonstration and the option to try it out on a horse. Experienced players will be available to guide you through the basics and rules of the game.
Bring your own horse – any horse will do – or take one of ours for a spin if you've ridden before.
Participants are asked to pay a $5 day fee to be covered by club insurance. Light refreshments will be provided. Helmets and appropriate footwear are required while mounted. A release must be signed prior to riding at this event.